My wife loves to submit us for reality and game shows. Case in point: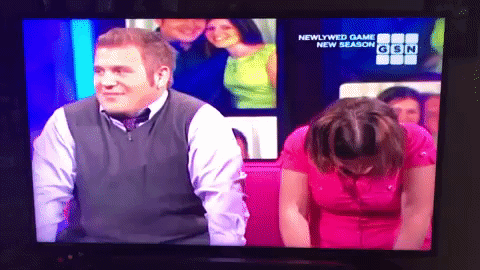 Back in 2009 she submitted us and we won the Newlywed Game! That's her face when she realized we won.
Now we're moving onto our next venture, our own reality show!? Last night we had a Skype call with a casting director for a show that's looking for the All-American Mom, and you can apply too!
AN EMMY AWARD-WINNING PRODUCTION COMPANY AND A MAJOR CABLE NETWORK
ARE SEARCHING FOR THE "ALL-AMERICAN MOM"
AS SHE BALANCES WORK, FAMILY, AND FRIENDS
AND SQUEEZES THE MOST OUT OF HER AMAZING LIFE!
ARE YOU OPINIONATED, CONFIDENT, AND LOVE TO LAUGH???
THEN WE WANT TO HEAR FROM YOU!
EMAIL US AT: LIMECASTING@ALL3A.COM
"ALL AMERICAN" FAMILY
TO HAVE THE SPOTLIGHT!
IT'S TIME FOR AN
INCLUDE A BRIEF DESCRIPTION OF YOU AND YOUR FAMILY.
INCLUDE AS MANY DETAILS AS POSSIBLE AS TO WHAT
MAKES YOU THE BEST FIT TO REPRESENT MIDDLE AMERICA.
DON'T FORGET TO ATTACH PHOTOS AND CONTACT INFO.
THE CASTING DEPARTMENT WILL REACH OUT TO YOU!
Comments